Announcement: 11th Annual Pala Gathering and Powwow

Pala, CA – The Cupa Cultural Center announces the 11th Annual Pala Gathering & Powwow will be held August 26-28, 2018 at the Pala Rey Youth Camp on the Pala Reservation. This event is FREE and open to the public.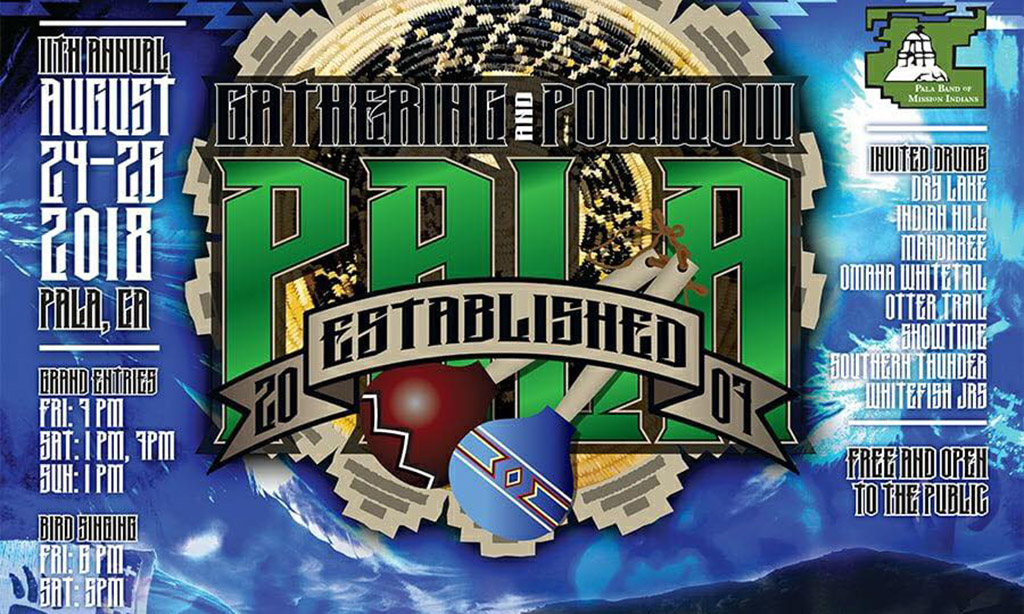 For more information, contact the Cupa Cultural Center at 760-891-3590 or email Skye McMichael at smcmichael@palatribe.com. For vendor information, contact Shelia Smith-Lopez at 760-891-3593 or by email at slopez@palatribe.com.
Grand Entries: Friday 7 pm, Saturday 1 pm and 7 pm, Sunday 1 pm
Bird Singing: Friday 6 pm, Saturday 5 pm
Invited Drums: Dry Lake, Indian Hill, Mandaree, Omaha Whitetail, Otter Trail, Showtime, Southern Thunder, Whitefish Jrs
Masters of Ceremony:
Ruben Little Head, Kansas
Bart Powaukee, Utah
Arena Directors:
Juaquin Hamilton, Oklahoma
Victor Xhatsalano, British Columbia
Drum Boss:
Jason Whitehouse, Michigan
Head Man Dance Judge:
Cecil Gray, Oklahoma
Head Woman Dance Judge:
Ashleigh Bonaise, Saskatchewan
Head Man Dancer:
Jared Buffalo, Alberta
Head Woman Dancer:
Cheyenne Brady, North Dakota
Head Young Man Dancer:
Hashkai Robert Bird, Washington
Head Young Woman Dancer:
Lillian Largo, Arizona
Special Contests:
Men's Northern Traditional (18+) by Jared Buffalo & Family
Women's No/So Traditional Combined (18+) by Cheyenne Brady & Family
Women's Northern Traditional (16+) by Lillian (Yil tah ni' bah) Largo & Family
Men's Chicken (18+) and Boys' Chicken (17 & under) by Hashkai Bird & Family
Women's Jingle (18+) Honoring College Graduates by Shaina Snyder & Family (must have Bachelor's degree or higher; bring a copy of college degree)
1st $2,000 – 2nd $1,500 – 3rd $1,000
Top 3 places will also receive a blanket and gifts
2 consolations of $500 and gifts
Women's Backup Singing by Ashleigh Bonaise
Committee Specials:
Men's Grass (18+)
1st $1,200 – 2nd $800 – 3 consolations $100
Women's Fancy Shawl (18+)
1st $1,200 – 2nd $800 – 3 consolations $100
Singing Contest (Invited drums only)
1st $14,000 – 2nd $12,000 – 3rd $10,000 – 4th $8,000 – 5th $7,000 – 6th $6,000 – 7th $5,000 –
8th $4,000
Elders (70+)
Women's Combined, Men's Combined
1st $1,000 – 2nd $800 – 3rd $600 – 4th $400 – 5th $200
Golden Age (55-69)
Northern & Southern Combined, Fancy/Grass, Fancy/Jingle
1st $1,000 – 2nd $800 – 3rd $600 – 4th $400 – 5th $200
Senior Adults (35-54)
No. Cloth, So. Cloth, No. Buckskin, So. Buckskin, Fancy, Old Style Jingle, Contemporary Jingle, Grass, No. Fancy, So. Fancy, Chicken, Straight, No. Traditional
1st $1,000 – 2nd $800 – 3rd $600 – 4th $400 – 5th $200
Junior Adults (18-34)
No. Cloth, So. Cloth, No. Buckskin, So. Buckskin, Fancy, Old Style Jingle, Contemporary Jingle, Grass, No. Fancy, So. Fancy, Chicken, Straight, No. Traditional
1st $1,000 – 2nd $800 – 3rd $600 – 4th $400 – 5th $200
Teens (13-17)
No. Traditional, So. Traditional, Fancy, Grass, Jingle, Chicken
1st $300 – 2nd $200 – 3rd $100
Juniors (6-12)
No. Traditional, So. Traditional, Fancy, Grass, Jingle, Chicken
1st $200 – 2nd $100 – 3rd $50
Tiny Tots (5 & Under)